There are plenty of good reasons why metal roofing is quickly becoming one of the most popular roofing options. With benefits like durability, beauty, energy efficiency, added property value and insurance savings; it's easy to see why many Dallas and Fort Worth homeowners are opting to make the switch to metal roofing. Old Pro Roofing is a leading Fort Worth roofing contractor for installing metal roofs.
Metal is one of the strongest roofing materials on the market today; and with advances in manufacturing techniques, there are a variety of metal roofing options in DFW. Although the traditional standing seam and R Panel are perennial favorites, newer products like stone coated steel are quickly gaining popularity. Today, there are even metal products on the market that mimic the look of tile and slate roofing. With such a variety of new metal roofing on the market, it is extremely important to pick the right product for your home.
There are a multitude of great products in metal roofing, however some inferior products are being sold as lifetime roofing as well. At Old Pro Roofing, we can help you sort through the options and find what is best for your needs. We have extensive experience installing all types of metal roofing in Dallas and Fort Worth. Give us a call today for a no obligation look at the benefits of metal roofing for your home.
Stone Coated Steel Roofing
Stone coated steel roofing is made from steel and then coated with stone chips and attached to the steel with an acrylic film. The result is a more durable roof that still retains the aesthetic advantages of high end roofing such as wood shake or tile. Stone coated steel is considered by many to be the most durable and long lasting of all metal roofs. Stone coated steel roofs are energy efficient and extremely environmentally friendly.
Stone coated steel comes in many styles with the most popular being shake and tile. They can either be installed with a batten system or directly to the decking in many of the newer applications. Old Pro Roofing proudly uses DECRA Roofing Systems when installing stone coated steel. With a proven commitment to quality and performance, DECRA Roofing Systems has over fifty years of experience manufacturing and marketing stone coated steel roofing systems. They also have many different colors to choose from that will integrate with any style of home.
Whether you are upgrading from aluminum to stone coated steel or constructing your dream home let the metal experts at Old Pro Roofing show you how stone coated steel can protect and beautify your home.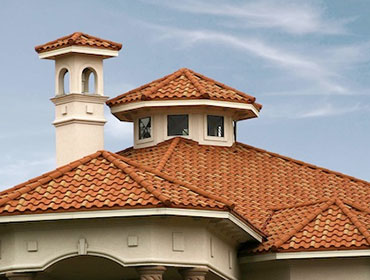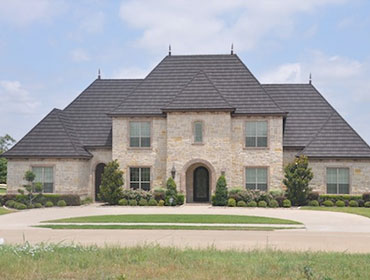 Standing Seam Metal Roofing
Standing seam metal roofing is a concealed fastener roofing system. Because of its energy efficiency, durability, and beautiful looks, standing seam is quickly becoming the metal roof of choice for many home and business owners. A standing seam metal roof is made up of vertical metal panels, each with two seams that stand up vertically. These seams are either crimped together using a special tool and clips or may come with a snap-lock design. This keeps moisture and water from collecting on the surface of the roof and leaking in.
Standing seam roofing panels come in a 12" or 16" coverage width and can be comprised or 24 or 26 gauge steel. They are available in galvalume as well as many different colors.
Because of their durability, metal roofs offer a significant cost savings over time. They require little to no maintenance, and stand up to weather conditions with ease. Metal roofing is energy efficient, hail and fire resistant, and can even save you money on insurance premiums due to their Class 4 rating. If you are thinking about Standing Seam metal roofing on your home or business, call the Pros at Old Pro Roofing today!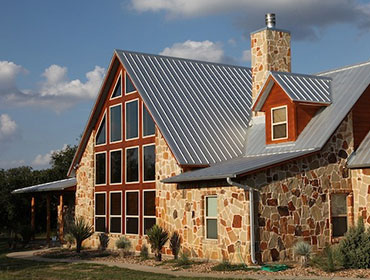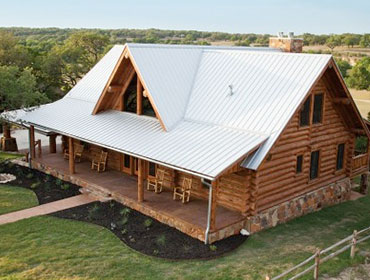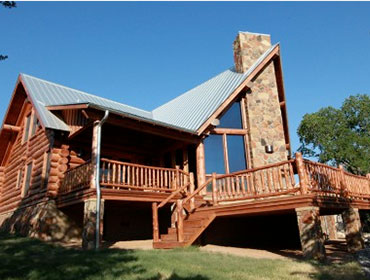 The R-Panel is an exposed fastener metal roofing system. R-Panel roofing is the one of the most durable and competitively priced metal roofs you can buy. Due to its strength and appealing looks, R-Panel remains one of the most popular metal roofing products on the market today. R-Panel metal roofing can be installed over decking, open framing, or even used for retro-fitting over existing composition shingles. The panels, commonly used in commercial applications, are lightweight and strong, allowing for easy installation and increasing the lifetime of your roof. R-Panel roofing is available in galvalume as well as many different colors.
There are many different reasons to consider R-Panel metal roofing for your residential or commercial roofing needs. It is fire and hail resistant, practically maintenance free, and energy efficient. R-Panel is also recognized as a Class 4 impact resistant roof and can save you money on your insurance premiums. Call the professionals at Old Pro Roofing today to discuss your metal roofing needs.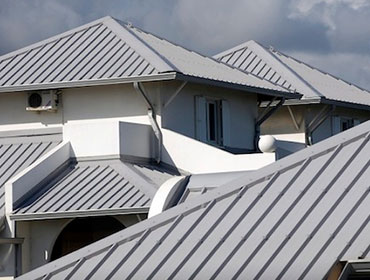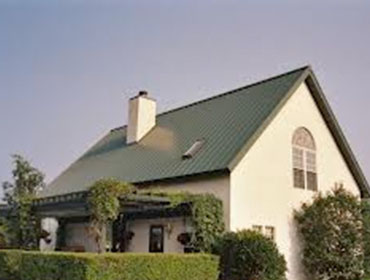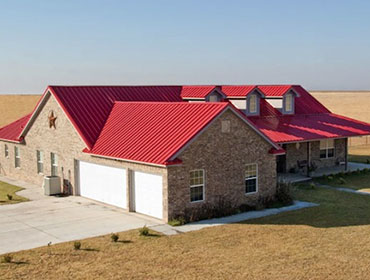 Aluminum roofing has benefits that make it a popular choice for homeowners. They come in a variety of styles but none more popular than aluminum shake. Aluminum shake is made to look like hand-split cedar. Aluminum roofing has proven to be very energy efficient and provide great protection against leaks. Aluminum is very lightweight and fire-resistant as well.
However, aluminum roofing has a downside. Structurally it will last for a long time, but because it is such a lightweight material it is cosmetically damaged by even the smallest hail. This has led to a group of roofing companies that try to sell you a "LIFETIME" energy efficient roof every few years. Insurance companies are catching on to this practice and soon all of them will likely require a "cosmetic waiver" on all aluminum roofs. Even though it may not leak, many homeowners will be left with a damaged looking roof that their insurance company may not pay for again.
Old Pro Roofing can help you get your insurance company to pay for your aluminum shake roof and replace with another roofing material such as stone coated steel, concrete, or slate if you desire. Although we can expertly install any aluminum shake roof, we normally don't recommend the product in the Dallas-Fort Worth roofing market. Give us a call soon while insurance companies are still paying for aluminum roofs in DFW and we can show you what options may be available for your home.
What roofing contractors Fort Worth have the experience and skills to install a metal roof? Old Pro Roofing is the leading Fort Worth roofing contractor with the most satisfied customers of metal roofing.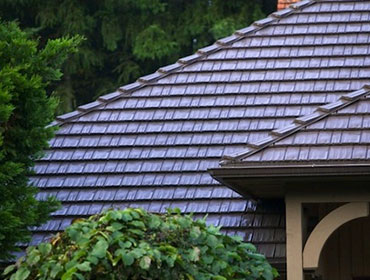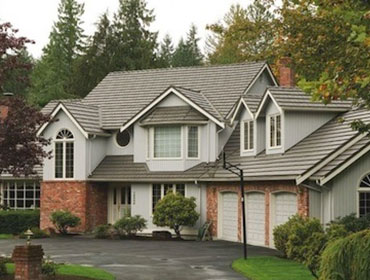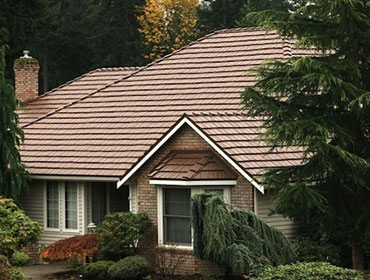 Benefits Of Metal Roofing
Metal roofs are eye-catching, strong, and cost effective. Old Pro Roofing's metal roofs are a favorite choice to protect the homes and businesses of our customers, which is a number we see increasing daily. Here are a few reasons why choosing a metal roof from Old Pro Roofing, the roofing contractor Fort Worth trusts, is the best decision you can make.
Metal Roofing Saves Money On Energy Bills
The finish of a metal roof has special reflective pigments that cause a cool, efficient home. The pigment is special because it has a chemical structure that causes the infrared portion of the sun's rays that are responsible for heat to be reflected away. Perfect for summer, a metal roof reflects the sun's heat leaving you with a cooler home. On the other hand, the reflection of the roof keeps the snow and ice at bay in the winter. According to metal roof homeowners, they usually save more than 20% on their energy bills!
Tough Weather Is No Problem With a Metal Roof
Due to our interlock and clip system, our metal roofs are weather-proof and resist the wind on all sides. Lab tests have proven this interlocking system to hold up with winds up to 110 miles per hour. Even during the worst hurricanes, homeowners with metal roofing systems reported that their roofs withstood, without fail, and saved them from costly damages.
Metal Roofs Are On The Leading Edge of Technology
Everyday at Old Pro Roofing, we ensure our materials and designs are up to standard. Old Pro Roofing uses the finest materials and the most detailed inspections to ensure our roofing systems are the most current in roofing technology. Our metal roofs never rot, rust, or deteriorate, giving our customers a lifetime's worth of strength and security.
What's your roof made from? Wood? Tile? Lately it seems we see more and more metal roofs becoming the popular choice throughout the area. As the leading Fort Worth roofing contractor, Old Pro Roofing has been installing metal roofs all over the Metroplex. But why is a metal roof a good choice for your home?
Metal Roofs are the Hot New Technology
Our materials and designs are tested daily at Old Pro Roofing. We want to make sure your roof lasts as long as possible so we test the raw materials and inspect them carefully before shipment. Ease your mind!
Metal roofing is becoming more popular every day and we are constantly adapting to the changes. We only use the most durable and eye-catching products because our manufacturers are the leaders of the industry. Our homeowners' roofs never rust because we use the finest aluminum.
Metal Roofs are Strong and Secure
UL 580 is a rigorously demanding test of roofing materials that simulates wind speeds over 120 miles per hour. Our metal roofing systems have endured and exceeded this testing.
Our metal roofing systems will also protect your home in a fire. Because a lot of wildfires begin on the roofs of homes, you can rest assured that a metal roofing system will protect your home, family, and possessions from a tragedy. We use non-combustible roofing materials to ensure your family and home's safety.
Metal Roofs are Good Looking
Metal roofing systems have such awesome warranties against rusting, chipping, and fading because of the Kynar500® and Hylar5000® coating used. These coatings ensure gorgeous and strong roofs, making them the industry leader. Since everyone has different style, a metal roof comes in all types of colors and looks.
A metal roof will make your home good looking and increase its value because of its lifetime of protection.
Metal Roofs Last a Lifetime
Metal roofing systems are made from aluminum. Because of this, they don't rust and are able to withstand inclement weather. Old Pro Roofing offers a lifetime warranty because we know we use the most superior materials on our metal roofing systems.
Old Pro Roofing is one of the few roofing contractors Fort Worth with the knowledge and skills you want in your metal roofing professional. This includes tough and strong standing seam metal roof style.
Standing seam metal roofs are becoming more and more popular for residential homes, even though historically they are used for more commercial properties. Standing seam metal roofs are extremely durable and provide much needed protection, but still look different and make your home stand out.
"Standing seam" means a vertical panel formation that is side by side and uses "invisible" fasteners, in metal roofing terms. The overlapping panel provides the connecting point between the seams on the sides of the panels.
Standing seam metal roofs are excellent for winter because they stay light weight from easily shedding the snow and ice. This helps the ventilation of the roof because it prevents ice dams.
Old Pro Roofing uses steel, aluminum, or copper standing seam metal roofs. We also offer warranties on all installations, including water tightness warranty and manufacturer's warranty on the panels and coatings.
Your home will be considered the fanciest on the block with your metal roof. In addition, the metal roof provides security, protection, and less maintenance.
CALL NOW FOR A FREE FT. WORTH ROOFING INSPECTION & ESTIMATE.
Is a metal roof the right choice for your home? Call for a FREE Ft. Worth roofing inspection and written estimate.
FORT WORTH ROOFING OFFICE: